Curriculum
Federico Malaman, nato a Noventa Vicentina il 15/01/1979
Bassista,Contrabbassista e Arrangiatore,diplomato in contrabbasso presso il conservatorio di Verona "E. Dall' Abaco".
CD & DVD
"Enjoy with me" by Federico Malaman.....con molti ospiti tra i quali Andrea Tofanelli,Vittorio Matteucci,Stefano Pisetta,Mauro Beggio,Paolo Birro,Elisabeth Geel,Roberto Manzin,Gianluca Carollo,Fabio Pupillo,Mauro Parma & molti altri!!!!
Con l'artista Paolo Belli " A Me Mi Piace... lo swing" "Belli... dentro" "Belli e pupe" In qualità di arrangiatore "Sorridi....e vai avanti" "Belli in Smoking" "Più belli di così "
"Let's Swing" by Bobby Solo
3 dischi distribuiti da Rai Trade "Ballando con le stelle" in vendita con Sorrisi e Canzoni
"Eternal Life" dei Capsicum Tree (il quale vanta anche la collaborazione di Stefano Di Battista,Saturnino,Red Canzian e Dodi Battaglia)
"Zoog a Jazz 3" Live (con Francesca Bertazzo,Lino Brotto,Marco Carlesso,Roberto Manzin,Bruno Cesselli)
"Royal big band Vol 2" Conductor Benny La Monica (Guest Carlo Atti,Luciano Milanese,Franco Testa,Angelo Adamo)
"So cool" & "Preface to a dream" by Elisabeth Geel
"Everyday magic" by Ruggero Robin
"Caress" by Chris Pescosta
"Double Face" by Lanfranco Malaguti
"Five portraits" by Marco Strano & with ,Bruno Cesselli Massimo Manzi
"Do it" by Vittorio Matteucci,Marco Strano,Bruno Cesselli Massimo Manzi
"In my hands" by Roberto Dalla Vecchia
"What about the funky" by Free Jam (Horns arrangiaments)
"DVD di "Donne per l'Abruzzo con L'Aura e Chiara Canzian"
"Por ahi va la cosa" by Roger Heredia (feat Mike Stern,Alain Caron,Bob Franceschini,Bob Mintzer & others great stars)
"The other end" by Martin Miller
"Roots & Wings" by Stef Burns
"Lewis Ave" by Wendell Holmes Jr
"Radiotrio" by P.Birro,M.Beggio,F.Malaman
"Universi Diversi" by Maurizio Camardi (feat Antonella Ruggiero)
"Love Map" by Aaron Tesser
"In itinere" by OJV (Orchestra Jazz del Veneto)
"Merry Christmas" by Marco Carta
"VSAK 6" By Valeriy Stepanov
"Beyond" by Mario Biondi
"Beyond Special Edition" by Mario Biondi
"Studio Session Vol1" by Dirotta su Cuba
"Best of soul" by Mario Biondi
"Touchè" by Malafede Trio
"Sunday Morning" by Timelin3
"Cacciatori di sogni" by Maurizio Camardi
Collabora con LAURUS BASSES, IQS STRINGS, STEFY LINE, TECAMP, DROPLAY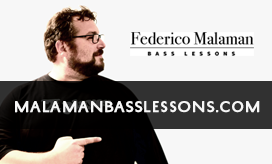 Gallerie
Su di me
Endorsment
Like me!